Not everyone around here has a basement, but if you do, and if you have windows in it, there are things you will need to consider if you are installing new models in that area of your house. Hurricane windows in Pinellas County, FL are always a good fit for any place in the home because you never know when the hurricanes are going to come through and you want to be prepared. But here are some other things to think through as you make this project come alive. 
Energy Efficiency 
The basement is the coolest place in your home, and, in the summer, you want to keep it that way. Having efficient windows will keep the hot, humid air out and make your basement a cool oasis to help you escape from the heat of the day. In the winter, you can keep it warmer as well when you have the right hurricane impact windows insulating the chilly air and keeping it out.
Air Ventilation 
Basements can become rather musty and the air can get stale, but if you put in the right windows, you don't have to worry about that any longer. Many basements have awning windows that are like casement windows, but they tilt open. The window blocks the rain from coming in so you can even get fresh air on a rainy day. They are often a good fit for the basement because the windows are sometimes high up on the wall. Another good option for a basement that needs ventilation is a sliding window. That can still be placed high on the wall and it slides open and closed to get ventilation flowing.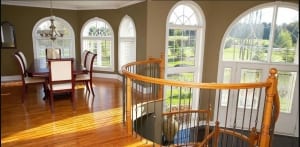 Natural Lighting 
Basements are also sometimes rather dark since they don't have nearly as much natural light as other areas of the home. You can get as much natural light as possible by putting in as many windows as you can. If the basement is underground, you might be limited to windows high up on the wall. If you have a walkout basement, you can put in picture windows and sliding doors on the back of the house and smaller windows in other places to let in as much light as you possibly can. 
If you're wondering what your best hurricane window covering options are, you have a few different choices. You can go with interior shutters, exterior shutters, or window blinds.
When it comes to protecting your basement from hurricanes, one of the most important considerations is choosing the right windows. Storm safe windows can make a big difference in keeping your basement dry and free from damage.
There are lots of things to consider for your basement window project, but if you are going to get hurricane windows in Pinellas County, FL for the rest of the house, the basement is no different. You want that same level of protection so you can get the safety you crave every season of the year. Hurricane windows won't break when debris hits, but if you live on a golf course, they won't break when someone hits a bad ball, either. And they won't break if someone trips and falls into them. There are many safety reasons to get hurricane windows for every room of the house in this area of the country and the specialists at Clearwater Window & Door Inc can help you do just that. Give us a call for a free consultation and go from there.