Clearwater Hurricane Windows Company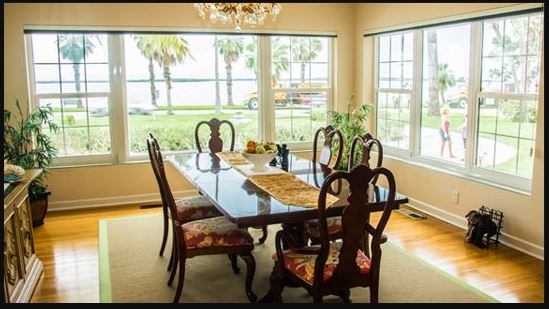 Over 60 years operational, Clearwater Window & Door Inc have been providing high quality, impact-resistant windows to the Pinellas County area. Our goal is always to provide quality products and service to any of our customers, and to always leave them with a positive experience. Whether you need a new door, a beautiful custom porch enclosure, or new hurricane resistant replacement windows, our team of professionals who has over 50 years of experience is here to help. We have always come out to give you a FREE written NO NON-SENSE in-home estimate. We pride ourselves on providing the highest quality and value at the lowest possible prices. Call us to get your FREE ESTIMATE at (727) 559-7007 or fill up our contact form here.
Client Testimonials
Is it raining outside again? It sounds even louder than it did yesterday. That thunder sounds like it is right on top of us. Soft thunderstorms are sometimes nice but these loud ones are just scary.
If you live in Florida then you know that every day at 3 or 4 o' clock, like literal clockwork, it starts to rain. Some days are worse than others but almost every day without fail then rain comes and can last from only 30 minutes to as long as 4 hours!
So it's hurricane season again and you can either hope for the best or look into getting some hurricane windows.
But what do you look for when it comes to weeding out the bad installers from the good ones? Well here are four things to help you find the right hurricane window company in the Clearwater, FL area.
Reviews, Reviews, Reviews
Decades of Service
Certified Hurricane Windows & Doors
Get a Quote!
Did you know that 37% of all the hurricanes since the year 2000 have made landfall in Florida? Using these steps you can be on your way to a safer house for this hurricane season and all the hurricane seasons to come!
Reviews, Reviews, Reviews
So this step is fairly simple considering this is the twenty first century. There are reviews on every business worth giving a review. Reviews are one of the best ways to help narrow down the choices from dozens of hurricane windows companies to maybe about a half dozen.
It doesn't matter that you live in the fairly populated town of Clearwater with just over 100,000 people in it. This first step never fails when sifting through the large number of bad hurricane windows companies out there.
Because let's face it! When people love a company they rave; when people hate a company they rant; and sometimes even when they think a company is okay they review because some people just like giving out their opinions. There is no harm in it and it gets you an inside view of how dealing with a certain company can go. So that's a win/win in my book!
Start narrowing down those choices until you have a number that is more manageable to pick from.
Decades of Service
Clearwater was first incorporated in 1891. Finding a company that old might as well be declared impossible but you can find some companies that are pretty old.
The next step is finding someone who's been doing what they do for a while. Just like you don't want a kindergartener reading a book on tape for you, I know that I sure don't want a company who hasn't changed out many windows yet. Maybe you can give them a chance later but, when it comes to this kind of delicate service, experience is better.
Clearwater Window and Door, Inc. has been putting in replacement windows for over 50 years. That's a stand up company in my book!
If a company doesn't say when they opened or when they were established then it only means that the number of years they have been open is nothing to brag about.
This step is very important. I don't think all young companies are bad but it is because the type of job it is makes it delicate. I'm all for trying new things but when it comes to trying to fix something in the house I just don't really care to deal with amateurs.
If They Aren't Certified, They are No Good
Let's get to a main importance of why you looking at this article. Hurricane windows are specialty windows. This third step is very important because if you don't check to make sure that some federal or state office certifies the hurricane windows then those windows are no different than other windows.
Let's face it, this is Florida and unfortunately we are the ocean's whipping boy of the United States. Just about every hurricane that forms during hurricane season is headed for us during some point in its path. That is just how nature works, and as Floridians we have accepted it.
If the company you are looking into for hurricane windows can't prove that the windows they are advertising as hurricane windows are certified then leave the store and, if you feel the desire, report them.
Clearwater Window and Door, Inc. is one of the companies that provide their license and insurance number for anyone who wants to know!
I don't really think this step is much of an issue but if those are the type of windows you are looking for then make sure you do specify that hurricane windows are what you are looking for!
Get a Quote
Over the last 15 years there has been an average of 8 hurricanes a year and as many as 30 tropical storms. Hurricanes will always be an issue for those who live in Florida so if you plan to live down here or rent out a place down here there is no harm in giving some of the promising hurricane window installing companies a call.
Clearwater Window and Door, Inc. is waiting for you to give them a call and is happy to give you any information you need!
This last step is simple to do. Once you find three or four companies that you feel you can trust to get the job done then give them a call and get a quote. Any company that meets the requirements of the first three steps should not have issues with this step.
Honestly even the less desirable hurricane window companies should give you a quote. Clearwater companies have people call and ask for a quote like this all the time because it's Florida and if people can afford it then why wouldn't they take the precaution.
It's still the middle of hurricane season so if you are looking to get windows you better get them soon and by using these four easy steps I'm sure you will find a company that does great hurricane window installations for a fair price!
Help protect your house and more importantly your family from these daily scares. You never know which one will end up being the one you wish you had safer windows for.
To find a great company in the Clearwater area, such as Clearwater Window and Door, Inc., that can get your house ready for those nasty hurricanes visit Clearwater Hurricane Windows!
Hurricane Windows FAQs
Disadvantage of not having hurricane windows?
Without hurricane windows, the debris that gets thrown around in the huge winds outside could easily be thrown against the glass of your windows—and break them. If even one window is broken, the wind will whip around inside your home, causing damage. The rain will get in as well and water damage is never fun. Plus, when winds like that breach your home, they cause a change in the pressure of your house. They look for a way out and they usually push upward. That could damage your roof and the entire structure of your home. Learn more.
Best type of shades to match my hurricane windows?
Roller Shades. These simple shades are often cost-effective. They are a simple piece of fabric on a rolling mechanism that can be unrolled to cover the window. When they are up and open, most of the window shows and they are highly out of the way. When they are down, they can filter light or even block it out completely. They come in a variety of colors and styles. And since they are fabric, they can block from the heat from outside as well. Learn more.
When is the best time to get new windows?
Getting new windows in the spring is ideal because the weather is ideal. There's no winter chill and no summer heat getting into your home while the project is taking place. Plus, you get ahead of the summer heat and save money on bills once summer does arrive. Learn more.