When you live in Pinellas County, you think about hurricanes from time to time. You have to! They happen in the area and they're downright scary! So there might be plenty of reasons to get hurricane windows, most of which have to do with helping your home in the event of a hurricane. But there are other seasons outside of hurricane season and it's nice to know that the projects you take on help in those seasons as well. And that's just what hurricane windows will do! Of course, they'll protect your home in the event of a hurricane. But they're useful other times of the year and in other weather situations. Here's how!
Hurricane Windows are Energy Efficient
You want hurricane windows to be ultra-strong and they are! But that also makes them energy efficient. Hurricane windows are like insulators for your home. They keep your temperature-controlled air in and the hot, humid air out. That means you will save energy in your house, remain more comfortable, and spend less on monthly utility bills. You can't beat that!
Hurricane Windows are Sound Barriers
You know a hurricane would be loud, but what about those neighbors down the street? Or the cars that drive by? You don't want that noise pollution in your home and hurricane windows can help! Since these windows are such good insulators, they act as a barrier between your home and the outside noise. You can have peace and quiet once again!
Hurricane Windows are Stylish
You might think that hurricane windows would be large, overbearing and ugly, but that's just not the case. They are actually quite stylish! In fact, they come in many different styles and trends. You can enjoy them as double-hung, casement, bow and bay windows and many others. The options are there for the taking. You just have to decide what style you want!
Hurricane Windows Raise Value
It's nice to make improvements that raise the value of your Pinellas County home, right? And hurricane windows definitely do that. Buyers are looking for the features these windows hold, both in hurricane season and other times of the year. They're downright good windows and buyers will pay more for a house that includes them because they know they're worth it.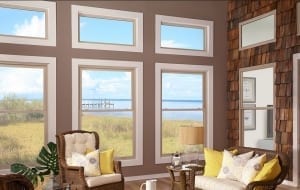 If you are looking to enjoy the safety hurricane windows clearwater provide during hurricane season, you're in the right place. If you also want to add other benefits to your home, hurricane windows can help there too. Just call Clearwater Window & Door Inc at 727-559-7007 and we can tell you more about hurricane windows, your options, and their benefits. Sometimes, it's easier to invite us to your home for a free in-home consultation. We can take a look at your current situation and give you advice based on your specific needs and wants as far as windows are concerned. You can also stop by our showroom at 2025 Gulf to Bay Blvd, Clearwater, FL 33765 and see hurricane windows yourself.