Start your new year off right by making a list of items you want to accomplish in your home. Most homes have plenty of projects for homeowners to take on as time goes by. If you have an older home, you might have regular windows and in this area, that can be a real pain—and a danger. You can improve your home in a number of ways, including by getting hurricane windows in Pinellas County, FL. Here are some of the home improvements you might want to consider this year.
Declutter Certain Rooms
Do you have a room, or maybe several, that are catch-alls for a variety of items? You might want to spend time going through those rooms, organizing, cleaning, and getting rid of things. You will be surprised at how nice and big a room can look once you clean things out or place things in compartments so they are more organized and contained. You want your house to look welcoming and more open and this simple project can help you do just that.
Paint A Fresh Color
Most of the rooms in your house might be a standard, neutral color, and there's nothing wrong with that. But if you are looking for a change this year, choose a new color and get to work. You might paint a bright yellow in a bathroom to bring in more natural light, or a calming blue in the guestroom. A new coat of paint in any color can make the space look like a whole new room.
Add New Hardware In The Bathrooms
While you might not want to renovate the entire bathroom because it is expensive and lengthy to do, you can take on small bathroom projects to make the space look new and different. Something as simple as replacing the hardware on the cabinets can help the space look brand new and refreshed. There are endless hardware options to consider and you can put them on yourself with a screwdriver and a few minutes of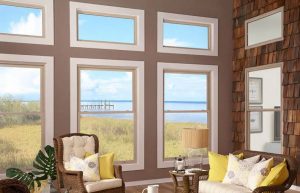 spare time.
Get Hurricane Windows
If you have windows that need to be replaced anyway, upgrading them to hurricane windows should be a huge priority for you this year. Not only will these windows protect your home during hurricane winds and other bad storms, but they are highly energy-efficient and valuable for other reasons as well. You'll save even more on energy bills and you can get even more for your home when you sell it in the future. Add that to the further comfort and protection you have in your home and you will appreciate the project even more.
There are lots of projects to take on this year and getting hurricane windows in Pinellas County, FL is something to consider for any home with older, standard windows. The professionals at Clearwater Window & Door Inc are here to help you with the project from start to finish. You can call us for a free consultation to get started whenever you are ready.