There are plenty of things you can expect when you get hurricane windows in Pinellas County, FL for your home. You need to know what to expect so you can plan ahead and possibly even shift your goals for the home to get just what you need. There are lots of benefits to new windows, in general, and hurricane windows are going to bring even more layers than the normal windows will. Here are things you can expect when you get those new windows installed.
Natural Lighting
When you get new windows, you are going to let more natural light into your home without even trying. Windows today have larger glass space because the frames are smaller. Technology has allowed for that shift and it's nice to know that you are going to get more natural light, even if you get similar windows as what you had before. If you plan for it, you can also get even more light into your home if you do certain things, like make the windows larger or add more of them.
Sound Proofing
New windows naturally block more sound than older windows are going to and hurricane windows are even better at that job. Hurricane windows don't let hurricane winds through. Do you really think they are going to let a little sound through? Well, they won't and you will have the peace and quiet you want in your home restored. You can ensure that you will have much more peace at home when the new windows go in.
Easy Operation
Older windows often don't open and close as well as you might want them to. They might warp and be hard to open or perhaps you have even painted them shut when you tried to maintain them. When you get hurricane windows, they are going to work like a dream. They will slide opened and closed without any issues. It's nice to know you can ventilate whenever you want without any troubles.
High Efficiency
You are going to want efficiency in your new windows and you will get that no matter what kind of window you put in, but when you put in hurricane windows, the efficiency levels will be above and beyond what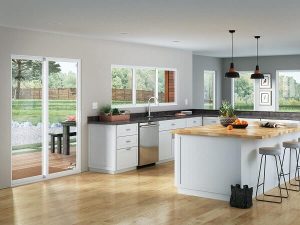 you would get in a normal replacement window. Hurricane windows protect your home against huge storms so of course, they can protect your home against the regular elements and small air leaks.
Overall Home Safety
Your home is going to be a safer place to live when you install hurricane windows. You will have further protection any time a big storm rolls through, but you will also have a tighter grip on the house against intruders. Plus, your own interior safety rises because you can open the hurricane windows in Pinellas County, FL with ease to create an emergency exit if you were to need that. The professionals at Clearwater Window & Door Inc can go over other benefits of hurricane windows when you have a free consultation.