Buying a house takes a lot of time and effort. It's probably the biggest investment you'll make in your entire life and you want it to be right. There are countless things you want to consider before plunging forward with the purchase. You will have to think about cost, square footage, number of rooms, and much more. But there are smaller details that will cost you quite a bit in the long run if you overlook them in the upfront purchase. Here are a few things you will want to watch for in the windows of any home you consider.
Check the Window Material
If you have a specific material in mind, check to make sure the windows are made from that material. Sometimes you can't tell by a quick glance. Most homebuyers are looking for vinyl windows because they are durable, long lasting, and highly attractive. They are also maintenance free so you won't have to worry about extra chores on your new house list.
Look at Panes
How many panes of glass do the windows have? In an older home, they may only have one pane of glass as that used to be the standard. Newer windows should have two or even three panes of glass. Keep in mind, the more panes of glass there are, the more energy efficient the house will be. One pane of glass alone will cost you a lot of money on energy bills.
How Old Are They?
You may not be able to tell by looking, but you have every right to ask the age of the windows. If they are 20 years old or older, they're not nearly as efficient as they could be as new technology has taken vinyl windows far in recent years. Keep in mind that when you buy a house with older windows, chances are you will have to replace them yourself at some point. If the windows are nice and new, you're good to go.
Special Features
Take note of the special features on the windows as well. Ask if the panes are filled with air, argon, or krypton gas. The gases are denser than air and give better insulation. Also ask if there is a low-E coating on the glass, which can be very handy in Florida. This coating keeps out the UV rays and keeps the house cooler in the summer and warmer in the winter while still allowing in natural light.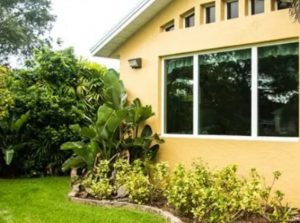 If you have any questions about vinyl windows St Petersburg while you are looking at a new home, don't hesitate to call Clearwater Window & Door Inc at 727-559-7007 for a free consultation. We're here for all of your window needs. If you buy an older home and need to replace the windows with new, vinyl windows, we'll help with that as well! Stop by and see our showroom at 2025 Gulf to Bay Blvd, Clearwater, FL 33765 and we'll help you with anything you need!