There are lots of changes your home might go through over the years. Perhaps you paint the siding, update the landscaping, and change other things. When your windows wear out, you might consider upgrading to hurricane windows in Pinellas County, FL, and that's a smart thing to do. You are going to want to know all of the details so you understand what is going to happen to your home once those windows are installed. Here are a few such details:
Your Home's Appearance Raises
The first thing you will notice when your new windows go in is how much better things look from the outside. Your home will have a new, fresh look on it, even if you put in the same window color and style you had before. Curb appeal is important to any homeowner and when you sell the house in the future, it will be even more important to get people through the door.
You Get More Natural Lighting Into The Home
You might think that hurricane windows are big and bulky because they do such a good job at protecting your home. However, their frames are thin and strong but allow for more glass space than your older windows do. That means you are going to get more natural light into the home. The frames aren't huge like you might think. Even if you get the same window sizes you had before, you are going to let more natural light into the house. You also have the chance to put in larger windows and if you do that, even more light will shine through.
Your Energy Bills Lower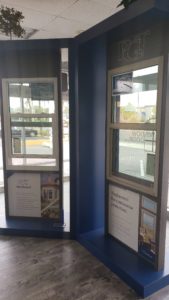 Energy bills are a big deal in any home and when you get new windows of any kind, you are going to lower your energy bills since you won't be leaking air any longer. But when you get hurricane windows, you are getting something that is more efficient than any other window. It won't let those hurricane winds through so, of course, it won't let those regular drafts through. You are going to have the height of efficiency in your home and your energy bills will dip lower than ever before.
Your Home Is Safe During Storms
As their name might indicate, your home is going to be much safer during hurricane storms. You don't have to worry about the windows breaking and you don't even have to board them up. No winds, water, or debris will get into your home. You will still have branches and other things flying around in the yard that you will have to clean up later, but the interior of your home will be safe and intact.
There are lots of reasons to get hurricane windows in Pinellas County, FL and if you have decided that's how you want to go, there are certain things you can expect from the upgrade. It's important to talk through the options with the professionals with a free consultation to take steps in the right direction.