Unfortunately, nothing in your house is built to last forever. Hurricane windows in Clearwater, FL have been around for a long time and while they are meant to last for decades, eventually they will wear out. Once you've noticed air leaks, cracked and warped frames, and other issues, it's time to replace those old windows with new ones. But there are benefits to the new hurricane windows that your old models didn't necessarily have. Here are a few to remember:
Extra Energy Efficiency
Hurricane windows of any kind are usually extra energy efficient, but newer models are going to be even more so. Technology has come a long way in recent years and you can guarantee that any window you get now is going to be better than something that is a decade or two older. Whatever efficiency you enjoy now you can get and then some with new windows.
A Sleek Look
Older hurricane windows are on the larger side, but windows as a whole have changed over the years. Manufacturers have figured out how to make frames stronger and smaller at the same time. Frames are now sleek and small with more glass space included on the windows. The same is true for hurricane windows. So even if you get the same style you had before, you will have more glass space and a smaller frame for a sleek, fresh look that includes more natural light in your home.
Higher Values
Because hurricane windows of today are technologically advanced, energy efficient, and nicer in appearance, they are going to be worth much more than an older set of windows. You can put a higher value on your home when you sell in the future and recuperate the money you spent on the windows in the first place. It's a great way to offset the investment. You will also pay yourself back in the energy savings you get on a monthly basis.
Better Hurricane Protection
Older hurricane windows will do better in a storm than regular windows, but they are more vulnerable than the newer windows. IF they have any leaking issues, you might be in trouble when a hurricane comes through. Replacing the old windows with new models guarantees your home's integrity and your safety long-term.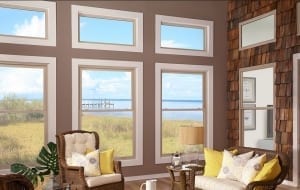 While hurricane windows in Clearwater, FL are created to last for decades, even in the face of nasty storms, they will eventually wear out. If you have an older home with older hurricane windows, it might be time to think about switching them out for new models that will bring even more benefits to your household. The professionals at Clearwater Window & Door Inc. are happy to do an in-home inspection and consultation with you. We will check out your current hurricane windows and give you advice as to whether or not they need to be replaced. Sometimes, a few repairs can take you another few years down the road. We're here to do whatever's in your best interest. When you're ready for help, give us a call.