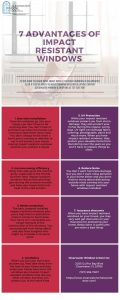 Pinellas County has plenty of sunshine, beautiful weather, beaches, and a lot of other advantages for those who live there. However, there are also occasionally tropical storms, which can dampen things a bit if you don't have the right windows. You have two options when it comes to protecting your windows during those scary storms. You can have hurricane shutters or you can have impact resistant windows. Which is better? Both provide protection, but there are many advantages to impact resistant windows over shutters. Here are 7 to consider:
1. One-time installation
Once the windows go into your house, you don't have to do anything else. You don't have to put them up when hurricanes are coming or take them down later. You don't always know when a hurricane is coming or whether or not it will protect your house. Having impact resistant windows protects you without a hassle.
2. Increase energy efficiency
Utility bills add up as the months go by, especially in the Florida summer heat. Impact resistant windows reduce the solar heat gain during the summer months and help your household onto heat in the cold winters. You will save quite a bit on your energy bills because of it.
3. Better protection
The best, properly installed impact resistant windows give you a high level or protection when it comes to hurricanes. Your home isn't vulnerable any longer because of the construction of the windows. You are protected from flying debris and also from burglars who might try to break in at some point.
4. Aesthetics
When you put your hurricane shutters up, they take away from the look of your home and they make your house dark since the windows are covered. Impact resistant windows look like any other window, but they can protect you at the same time.
5. UV Protection
While your impact resistant windows protect you from storm damage, they also protect your home during the regular, sunny days. UV light can damage fabric, coloring, photographs, paint and much more. When you have impact resistant windows, they protect your valuable items from discoloring over the years so you won't have to replace things as often.
6. Reduce Noise
You don't want hurricane damage, but you don't want noise pollution in your home either and you don't have to worry about distracting outside noise coming into your home with impact resistant windows installed.
7. Insurance discounts
When you have impact resistant windows on your house, you may very well get discounts on your insurance for protecting your home. Reductions in premiums are never a bad thing!
If you want to learn more about impact resistant windows in Pinellas County, or if you're ready to move forward with installation, contact Clearwater Window & Door Inc at 727-559-7007. We'll answer all your questions and help you make an informed decision about the process. You can also stop by and see us at 2025 Gulf to Bay Blvd, Clearwater, FL 33765.