When you think about home improvement projects, you probably don't automatically picture new windows, right? You might consider landscaping, bathroom remodeling, or a kitchen renovation. However, replacement windows should really be on your list to think over. They could just be your dream home improvement project. Here are a few things you want from a home improvement project. Let's see if replacement windows fit the bill.
Return on Investment
Any time you work on home improvement projects, you want to get a number of things from the project. You want your home to look nicer and be more functional. But you also want to know that whatever money you spend on the project will come back to you if you ever sell the home. When you get replacement windows, you'll get most of the money you spend back. Plus, you'll save money on energy bills in the meantime.
Changed Aesthetics
If you paint one room of the house, that one room will look different. If you renovate the kitchen, it will look different as well. But when you put in replacement windows, you will change the look of every single room in your home. Not only that, but the outside of your home will change as well. There aren't any other projects that you can put into action that will change that much of your home all at once.
Better Energy Efficiency
Working on a kitchen can put some energy efficiency back into your home because you can get energy efficient appliances. The same can be said about bathrooms. But when you put in replacement windows, you get better energy efficiency at the very core of your home. The insulation replacement windows can give your house allows you to use less energy every time your air or heat runs. That translates to big savings every month. You will be able to afford those energy efficient appliances for the other rooms much sooner.
Plenty of Options
When you take on a home improvement project, you expect and want options. No two houses are identical and your style is different than your neighbor's as well. When you are looking at replacement windows, there is no shortage of options. You can get a variety of materials, colors, and styles as well as hardware choices. It can be fun to customize your replacement windows.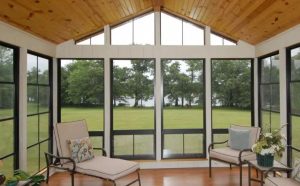 Now that you realize just what Pinellas County replacement windows can do for a home, it might be not only on your home improvement list but at the top of the list. If that's the case, contact Clearwater Window & Door Inc. at 727-559-7007. Our window experts can show you all of the options when it comes to replacement windows so we can ensure that you have peace of mind about using them as your next home improvement project. Stop by and see some of the options in person at 2025 Gulf to Bay Blvd, Clearwater, FL 33765 and figure out just what you need.