Hurricane windows in Pinellas County, FL are a great thing to install on any home in this area where the threat of hurricane storms comes rampant in certain seasons of the year. Impact resistant windows also lower your heating and cooling bills and protect your homes against intruders, among other things. Impact windows resist cracking and shattering, and they can even withstand severe pressure changes. But if they sustain a large enough blow, the glass can crack and when that kind of damage occurs, they need to be fixed.
Replacing cracked glass in a hurricane window is straightforward enough. When you notice the damage, replace the glass so you are sure that the window is secure. Even if there is just a small crack, the window may not hold up as well against another hit in the future. IT's better to get it repaired. You should call the manufacturer that created the windows and see what they can do. An expert technician can replace the glass after assessing the window and seeing what is best. You might even have something under warranty so the fix could be free, depending on the age of your windows and the damage sustained.
If you have a certain kind of damage, the glass itself could be removed and a piece of glass that is the same as what you had before can be put in and sealed up tight, so the window is as good as new. If the damage is bad enough, you may need a new window completely. IF the crack moves into the frame and both are in bad shape, that could be the case.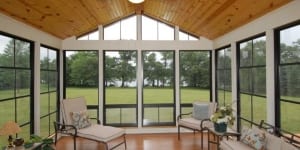 But simply replacing the glass isn't something that takes long and is easy for professionals to do. You don't have to worry about higher energy bills, fear of storms, or further damage to the home.
While you never want to have to have a window repaired, and things happen a lot less frequently with hurricane windows installed, it's still important to address the issue as soon as you see it. You don't want an intruder to notice the weakness in your home and take advantage of it. And you don't want to face the next bad storm to cause damage in your home that you will regret.
There are lots of great things about hurricane windows in Pinellas County, FL and if you don't have them on your home now, it's definitely something to consider. The professionals at Clearwater Window & Door Inc can help you think through the pros and cons and get you set up with just the right windows. You can also help yourself by looking up details on line to learn more about them. You will see that hurricane windows are a great asset and when something happens to one of them, fixing it is the best course of action. Give us a call for a free consultation, whether you need new hurricane windows, you need to fix a window, or you just have questions to start.