If you have ever envisioned a different window in a certain location of your home, there's never a better time to make the change as when you are looking into replacement windows. As long as you are removing windows and putting in new ones, it's a good time to improve your home's value and appearance with size changes. Replacement windows in different sizes can add light, space, function, and many other benefits to a room. There are plenty of custom replacement windows that will fit your unique style. So can it be done? Can window openings be made larger or smaller? Of course!
Hire Professionals To Help
Not just anyone can change a window opening. You don't want to buy a saw and start hacking away around your windows. The task is complex and takes the right skill set. Altering a window can affect the structure of a house if the window happens to be on a load-bearing wall. It's important to hire professionals to do the job properly. With skilled craftsmen on the job alterations like widening, shortening, or any other variation are certainly possible.
Proper Installation Counts
As is true with replacement windows of any kind, installing windows of a different size is very important to the overall process. The installation can impact the performance of the replacement windows as well as their durability and energy efficiency. Without the right installation, the windows could fail over time and you could see higher bills. With the right installer, you can get the long-term performance you want from your windows, in whatever size you choose.
Benefits of Custom-Sized Windows
If there are windows in your home you want to update, you can do so during the replacement windows project. Consider a bow or bay window, for example, to add space to the room and more light at certain times of the day. The windows can be built to fit the exact opening you have to offer. The options are virtually endless. There are also a variety of specialty window shapes you could consider, all of which are energy efficient options. And you can choose to patch interior specialty colors to make the windows blend in with the look you already have going on. Customizing your windows gives your home a truly unique look and feel all the way around.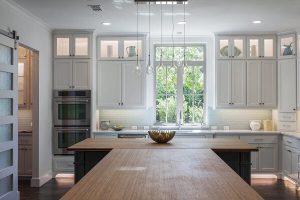 If you want to make your windows larger or smaller when you get replacement windows in Pinellas County, just talk to the professionals at Clearwater Window & Door Inc about the options. You can give us a call and set up a consultation or ask questions over the phone completely free. Reach us at 727-559-7007 or visit our showroom in person at 2025 Gulf to Bay Blvd, Clearwater, FL 33765. It can often help spark ideas when you see replacement windows with your own eyes so you can start to imagine what they would look like in your home.