Looking for new windows for your Pinellas County home opens up a whole can of worms. There are so many options it's hard to figure out where to start. Most homeowners first decide on a material for the window's frames. That's a great place to start, but it certainly isn't the last stop. The glass is also very important so let's talk about what makes energy efficient glass for the windows you want to install in your home.
Low-E Coating
Low-E coatings are energy efficient coatings that take down the amount of UV and infrared light that can come through the glass and into your home. The coating works well in both the summer and the winter months. In the summer, it will reflect heat back out of your home so you won't get the heat of the sun inside. In the winter, it will reflect the heat back into your home, reducing your energy costs then as well.
Insulated Gas
All windows come with at least two panes of glass and you can have air between those panes, but argon and krypton gases enhance the energy efficiency Pinellas County of the windows even further. If you want to reduce the amount of heating and cooling you lose through the glass, the gas filling is a good way to go. Both gases insulate your home and work well with a low-e coating to keep your home comfortable. Krypton is more expensive because it is a better insulator. It also reduces outside noise interference within your home. Argon gas is cheaper, but good as well. It increases the R-value on the window and works well when there is a large gap between window panes.
Panes of Glass
No windows use single panes of glass any longer, but if you have old models, that might be all you have. Other than keeping out the rain, windows with single-pane glass don't do much insulating. That's why manufacturers have moved on to double and even triple pane glass. Double pane glass is the most common type used on replacement windows. They are good insulators and you can add the low-E coating and insulating gas. But triple pane is the most energy efficient since you can have the gas layers between each pane in addition to low-E coatings.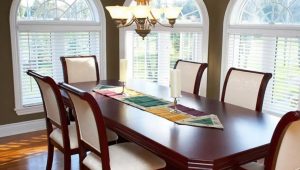 Finding an affordable, reliable company to work with to get new windows can feel impossible when you look at a list of companies in the area online. But the professionals at Clearwater Window & Door Inc don't want you to feel that way. We want the process to be easy and stress free and that's why we answer any questions you have with a free consultation. Just give us a call at 727-559-7007 and don't worry, we won't try to pressure you into anything or place any obligations on you. You can also stop by and visit our showroom at 2025 Gulf to Bay Blvd, Clearwater, FL 33765 to take a look at the windows we offer in person.