If you don't know that much about hurricane windows in Pinellas County, FL, you might assume they are big and bulky. Do you really want that on your house? Perhaps not, but this idea is a myth that is not at all true. In fact, if you were to see a home with hurricane windows and one with regular windows sitting right beside each other, you would not likely know the difference. You have as many choices with hurricane windows as you do any other window and there are lots of ways to dress them up and make them look nice, just like regular windows. Here are a few things you can do. 
Choose The Right Color
The right color on any window is going to make or break how it looks on your house—and that includes hurricane windows. Yes, hurricane windows perform well when a large storm rolls through, but between those storms, you have to live with the way they look. You will need a color that is more of a classic in order to be happy with it both now and well into the future. Most people choose white for that reason, but black is a popular color right now to provide a contrast. You can also get something that blends into your home and gives the house a streamlined look. 
Choose A Good Style
Hurricane windows come in any style you want, just like regular windows, and they are just as strong in any version. You can get a picture window, casement windows, double hung, bay and bow windows, and anything else you appreciate. Choosing the style will make your home look more welcoming and on trend. Consider something that brings in more natural light while still allowing ventilation. Also get something that goes along with the style of your home. Sometimes, older homes look better with double hung windows while modern homes do well with casement. The style will do a lot to the appearance of the windows.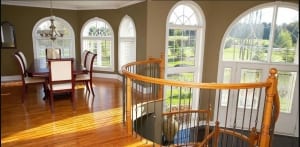 Get Window Coverings
Beyond what you can do with the actual windows, the project may feel incomplete unless you get the right window coverings to help the windows with your goals. Sometimes, these coverings can be seen from outside, so they matter in appearance there. But they are especially important inside where you will for sure see them. 
There are lots of other options that can help you dress up your hurricane windows in Pinellas County, FL and the professionals at Clearwater Window & Door Inc can help you through the options so you are able to figure out what you want for your home. Remember, with hurricane windows, not only do you get the protection from hurricane storms, but you get the beauty of new windows, just like you would with any other replacement window. You have lots of things to think about and a budget to look over and consider as well. The professionals are here to help you every step of the way so you can get just what you need and want.