When you move into a new house in Pinellas County, you might feel a bit like a fish out of water at first. If someone else used to live in the home, it might still feel like "their" house, even though you technically own it. They painted the walls, chose the flooring, and put other personal touches in the house after all, right? But once you sign the dotted line, you need to start making the house feel like a home…your home. Here are a few tips to help you with the process.
Clean First, Then Unpack
Even if the previous homeowner left the house in good condition, it's nice to make sure every room is as clean as you see fit before you start moving things in and unpacking everything. Cleaning is an intimate action and once you clean the house top to bottom, it will feel more like your home. You'll get used to those nooks and crannies fast once you are cleaning them yourself!
Start Small
When you are decorating a new home, it is best to start with smaller rooms and work your way around the house. Start with something like the bathroom and add items and colors that suit your personal style. You will start to see the little accomplishments add up as you settle into your new home.
Freshen the Front Door
If you want to welcome guests into your home sooner rather than later, put your personal touch on the front door with a new, bright color. You could also do something more simple like hang a wreath or do something else to make the front door (the first thing anyone sees!) feel more like your own.
Add Items You Love
Do you enjoy fresh flowers? Art? Books? Whatever you love, make sure you incorporate it into the home early on so you will feel like the house is your true home. Put flowers on the kitchen table, books on the coffee table, and art on the walls in order to bring your style into every room of the house.
Choose Home Improvement Projects
Even if the home is move-in ready, there might be things you want to do in order to make it even more yours. Some houses in Pinellas County, for example, would be better equipped if they had better energy efficiency Pinellas County. That might mean installing impact-resistant windows in order to make the house safer and more efficient all the way around. You get to pick all the details on the windows, which would make the house that much more yours.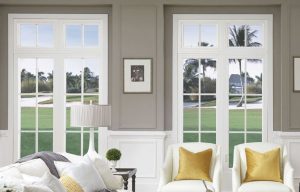 If you are interested in impact-resistant windows for your new home, contact Clearwater Window & Door Inc today at 727-559-7007. We'll gladly visit your new house and take a look at any unique challenges you face. We also welcome you to our showroom at 2025 Gulf to Bay Blvd, Clearwater, FL 33765 to look at the high-quality impact resistant windows we offer to customers in the Pinellas County region.