Many purchase decisions are based on emotions…and that includes buying a house. Once a prospective buyer makes up their mind about your house, one way or the other, it's hard to change it. If you are going to sell your home in Pinellas County, it's best to take some time to prepare your home for a successful showing. The way your home comes across is vital to selling the house quickly…and at a good price. Use these tips to get your home staged well so it will sell fast.
-Enhance Curb Appeal
There are a number of things you can do in order to give the outside of your home extra curb appeal. You want potential buyers to think you take pride in caring for your home. Do things like cut the lawn, water the landscape, paint the home, doors, and windows and replace certain items that need it. You will also want to replace missing shingles, clean out gutters and tidy up other areas. If you want to make a big change, consider doing something more drastic like installing hurricane windows.
-Bring Style Inside
Not everyone is an interior designer, but you don't have to be in order to get your home tidy and neat. You will want to keep things clean and organized, first and foremost. Then, do a few added things like adding a fresh bouquet of flowers to the coffee table or putting a few new throw pillows on the couch. Make your home look lively and inviting, but take down personal items like pictures and knick-knacks.
-Watch Brands
If you are going to do a few home improvement things to your house in order to sell it faster, you will want to watch the brands you install. For example, if you are looking at hurricane windows in order to enhance the value and visual appeal of your home, you want to get the most from your investment. That means buying high-quality brand names. Working with Clearwater Window & Door Inc will ensure that you get everything you need in hurricane windows.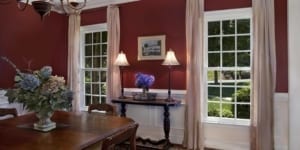 There are a lot of things you can do to your home in order to help it sell faster and at a higher price. If you have time for a home improvement project, there's not much you can do that will help you more than installing hurricane windows. Pinellas County residents know the value of strong, high-quality windows. Not only do they protect individuals and possessions from nasty storms, but they are also highly energy efficient the rest of the year.
Look into hurricane windows for your home before you put it on the market. Contact Clearwater Window & Door Inc at 727-559-7007 and ask for a consultation appointment with no obligation. You can also stop by and ask questions or look at some of our windows yourself. We're located at 2025 Gulf to Bay Blvd, Clearwater, FL 33765 and we're happy to talk through options for your home.