If your home in Pinellas County needs updates and you know it, you might have a long list of things you want or even need to do. Let's face it, budgets are limited. There's only so much you can do at a time, even if you want to get it all over with at once. While you might be tempted to tackle certain projects over others, putting replacement windows into your home should quickly move to the top of your list. Here are a few reasons to consider installing replacement windows first over other projects.
Reason#1: Replacement Windows Might Fix Other Issues
You would love nothing more than to cross a number of items off your list at once, right? Replacement windows might be able to do that for you! If your home looks old and tired inside and out, you might consider updates to the exterior and interior of the home. If you install replacement windows first, you might find that your home no longer needs updates on either side of the walls. You see, replacement windows show from inside and outside and they'll give both sides a whole new look. You'll get a better overall curb appeal and a brand new look inside. If you replace the windows first, that might be the only update you need in terms of aesthetics.
Reason#2: Replacement Windows Will Help You Save for Other Projects
If you have to stick to a budget, you will be looking for ways to save money in order to put the cash towards home improvement projects. Sure, replacement windows will cost you up front, but you will then save money on your energy bills every single month. If you put the money you would have spent aside and save it for other projects, you will be able to reach your goals a lot faster.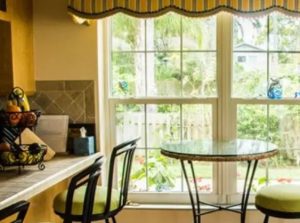 Reason#3: Replacement Windows Will Save You Time
Replacement windows will also save you time on home improvement projects. If you choose vinyl windows, for example, you no longer have to paint and scrape them every year to keep them looking nice. You can spend that time on other projects that need your attention even more.
Putting replacement windows at the top of your list of necessary updates is a smart move. You can cross some items off your list along with it, save yourself time and money, and get a new level of comfort and energy efficient windows Largo, FL in your home all at once. If you are ready for details, contact Clearwater Window & Door Inc at 727-559-7007. We're here to help you walk through the process from start to finish so you end up with the exact right windows for your home. If you know what you want already, we'll accommodate that. Otherwise, we're happy to talk through the options with you and compare different products to help you make a decision. Stop by and see us at 2025 Gulf to Bay Blvd, Clearwater, FL 33765.