When spring weather rolls around in Pinellas County, you might start having wistful thoughts about summer. Perhaps you are even dreading it because you don't like the extra heat and humidity that comes along with it. There's no reason not to enjoy your summer vacation, even if you don't leave your house! In fact, you should treat yourself to a summer vacation at home. Any time at home should be a vacation away from it all! How do you do that in the summer when it's so hot and sticky all the time, even inside your home?! You fix the problem with new windows! Here are a few ways new windows can make your home a cool oasis so you can take a summer vacation at home every time you are home.
-New windows raise the energy efficiency of your home
Maybe you don't feel like you can afford a summer vacation because you have constant monthly bills to pay. They never go away, but you can reduce their severity a great deal by getting new windows! When you install new windows St Petersburg with a much higher level of energy efficiency, you can use less energy trying to keep your home cool. That translates into savings for you. Who knows, maybe you can even save up the money you would have spent and use it on a vacation away from your home! Though once you feel the coolness in your house, you may not want to go anywhere at all!
-New windows make your home comfortable
If you like it to be as cool as can be inside your house in order to give you a break from the heat and humidity outside, you can have that and you SHOULD have that! Your home is where you go to get away from everything, especially the heat and humidity. When you are inside, it should be easy to keep a temperature you enjoy. You can set your thermostat and expect it to hold that temperature with ease…all thanks to your new windows! You don't have hot drafts coming through the rooms anymore! Windows will keep you comfortable so you feel like your time at home is a vacation from the heat and everyday life in general!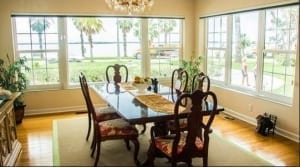 Taking a vacation is hard work! You have to plan ahead, pack, spend a lot of money, and so on and so forth. But who doesn't like time away from it all? In order to feel like every day is a vacation, install new windows on your home! You'll save money and enjoy the cool comforts you deserve after a long day in the heat. If you're ready for windows, all it takes is one call to Clearwater Window & Door Inc at 727-559-7007. We're here to help you walk through the process from start to finish so you end up with the exact right windows for your home. Stop by and see us at 2025 Gulf to Bay Blvd, Clearwater, FL 33765.