Hurricane windows are great hurricane protection options. Installing hurricane windows in Pinellas County, FL, is an intelligent strategy for protecting your home from strong gusts and debris. Although hurricanes can be terrifying, nothing compares to the thought of 155 mph flying glass shattering across your living room.
Add to it the unsettling possibility that hurricane winds can enter your house through damaged windows and create hazardous pressures that may collapse your walls and roof. Below are some other changes to consider after installing hurricane windows.
Include a UV-Blocking Film
An appropriate window tint can decrease your electricity bill by up to 30%. In addition, darker hues might assist in keeping heat and light out of your home. You can use low-emissivity glass, designed to reduce the amount of infrared and ultraviolet (UV) light that enters your home, instead of permanent tints. It maintains temperature without tinting by reflecting heat like tinted windows.
Install Hurricane-Resistant Shutters
Shutters that roll up or fold like an accordion are simple to install. You can significantly prevent damage to your property if you close the shutters before a hurricane. If you're terrified of the dark, go for holed shutters or those made of robust and transparent fiberglass. Installing storm shutters can range in price from $10 to $50 per square foot, depending on the type and material.
Purchase Textile Storm Panels
Textile storm panels have several benefits, although they are more expensive than metal or plastic ones. You won't have to wait long for a storm warning before you can cover your windows because they go up quickly and easily once they are in place. They are also simple to set up and store because they are light and folded.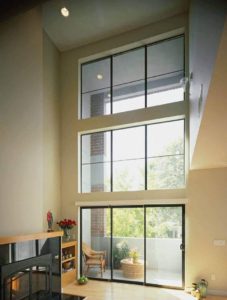 Install Plywood Window Shades
Plywood is often used to make window coverings because it is affordable and straightforward. Use plywood sheets with a minimum thickness of 58 inches. Measure each window and cut the plywood to extend 8 inches on all sides past the window. Use bolts, screws, window clips, or barrel bolts to secure the plywood coverings before a storm.
Clean the Frame and Remove Unclean Items
You should properly wash your hurricane windows after installing them. Regular washing with water and soap will remove any dust accumulated on the glass' surface, but it won't remove grime that has lodged inside the frames. You must use extra care to remove the debris from the space between the glass and the frame.
The glass edges can break if dust accumulates over time. With time, the tiny cracks will grow larger and may eventually cause the entire pane to shatter during an intense hurricane. For this reason, you should spend some time cleaning the frames of any dust. First, wipe the glass with a moist cloth to remove the dust.
Installing high-impact hurricane windows and glass door systems is the most significant way to safeguard your building from hurricanes. Your doors and windows must be hurricane-proof in a storm-prone region like Florida. Contact us to supply and install hurricane windows in Pinellas County, FL.