The world as we know it is completely different now than the current generations have ever seen before. The pandemic in the world has hit everyone, and every industry, hard. People are huddling in their homes, reluctant to go out or do anything and also shy about letting anyone in. But when you live in this area of the country, hurricane windows in Pinellas County, FL are an important part of keeping your home safe when the hurricane season rolls around. Should you go ahead and install those windows now? Even in the midst of the pandemic? That choice is completely up to you as the homeowner, but you can have the project done in a safe manner.
No matter what you decide to do, whether it's go to the grocery store, get gas in your car, or even install hurricane windows, you want to be able to do so in a safe manner. Your home isn't going to be safe in a hurricane without these windows so you want to get them when you can. They bring tons of benefits with them and you likely want those benefits sooner rather than later. But in order to get the windows installed, you have to let people into your home to install them.
The installers understand that it's hard for you to let people into your home, especially people outside your circle. But the installers will make the process as safe as possible for everyone involved. For example, they will wear masks and distance themselves from you. You can stay in a completely different room than the workers to stay out of the way and remain safe.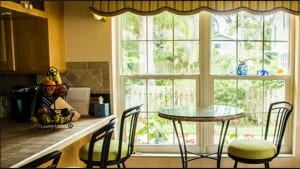 One benefit of getting the windows now is that there aren't as many people clambering to get windows installed. It's easier to find a time to get the windows installed at a time that's convenient for you. And you might also be able to find good deals from manufacturers who are lowering prices to entice buyers to make a purchase.
And while the hurricane windows are going to protect your home from hurricane storms, they will do a lot more for your house as well. They will prevent burglars from breaking through, or even thinking about it. They will insulate your home and lower your energy bills. They will give you security discounts on your homeowners insurance. And they will protect your home from harmful UV rays. Plus, they look great!
When you are ready for hurricane windows in Pinellas County, FL, but you are nervous about taking the project one during a pandemic, contact the professionals at Clearwater Window & Door Inc for more information and advice. We will be honest with you about the protocols and personal protective equipment we have for our installers and if you decide to move forward, we will help you with that process right away. A free consultation can help you get the information you need so you have confidence in moving ahead if you feel the time is right.