Until you are a parent, it's hard to know just how far you are willing to go for that little one. But as you prepare to become a parent, you may be making changes to your home. You plug things into outlets that aren't being used, put a baby gate up on the stairs, and make things as safe as possible. If you have older windows, you might also want to consider switching them out for hurricane windows in Pinellas County, FL. Here are just a few reasons why that's a good idea before the baby arrives.
Avoid The Mess/Noise Later
Have you ever heard the phrase 'never wake a sleeping baby'? You will understand it a lot better when it took you hours to get the baby to go to sleep in the first place. The last thing you want is for anything to wake them. If you install hurricane windows before the baby arrives, you don't have to worry about the dust, the messy cleanup, or the noise of the process bothering the little one. Get everything out of the way now so there are no concerns later.
Keep Them Comfortable
Babies are very sensitive to the temperature and you want them to feel just right at all times. If there are drafts in your home because of old, leaky windows, that can be very hard to do. When you install hurricane windows onto your home, the temperature can regulate and be nice and even in every room of the house. You don't have to worry about your child being too hot or cold due to leaky windows.
Save Money For Baby Items
Babies are expensive. Have you looked at the price of diapers today? When you have a child, any place you can save money, you'll want to do so. When you get hurricane windows, you will be able to save on your energy bills each and every month. You can use that money for diapers, to pay yourself back for the investment, or for anything else your family needs.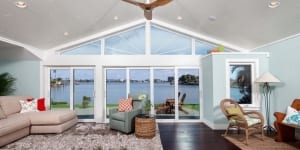 Hurricane Protection
When you have a child, you want to keep them safe, especially during bad storms. But you also want to keep the precious possessions safe within your home. You'll have pictures that you can't replace, first baby blankets and other such items that could easily be ruined if your home were to be breached by hurricane winds. Protect your child, your family, and the precious items that come along with having little ones in your life through the hurricane windows you install.
If you want to get hurricane windows in Pinellas County, FL installed onto your house before your baby arrives, contact the professionals at Clearwater Window & Door Inc and talk to us about your timeline, your budget, and the overall goals you have for your home. We want you to get everything you want and need by way of results and we will help you line up just the right windows for all of those things.