Outdoor living spaces are all the rage right now. Not only can they make a house in this area a lot more fun to live in, but they are highly valuable and marketable in the future when you want to sell your home and move on. If you are thinking about trying to optimize your home's outdoor living space, hurricane windows in Pinellas County, FL can help you in a variety of ways. Here are a few to consider if you are going to hit the stores for that project soon.
Floor To Ceiling Windows
If you already have a great outdoor living space, you want to be able to see it. Even on the hottest days of the year when you want to stay inside so you can be cool, you can still feel as if you have a great outdoor living space if you have the right windows. Floor-to-ceiling windows with low-E glass to block the heat can give you everything you want inside and out. You can see the outdoors even when it's too hot to be out. Your living space is all around you, inside, outside, and when you are moving from one to another.
Outdoor Kitchens With Serving Windows
If you have an outdoor kitchen, that's a fabulous way to enjoy the weather, entertain guests, and enjoy outdoor living at its finest. You might want to install some windows in the kitchen nearby, like double hung windows, that make passing things inside and outside easier. You can pass out meat for the grill, ice for the cooler, and drinks for the guests. It makes it easier to pass things quickly, even on clean up duty at the end of the day.
Edible Gardens In Garden Windows
Greenery is always nice in outdoor spaces. Indoor spaces benefit from plants as well. You might place a garden window in your kitchen so you can see the plants you grow both from the outdoor living space and from inside. You can use the fresh herbs you grow in your kitchen and you can protect the plants from the severe heat while getting them all of the sunshine they need.
Firepit Features With Picture Windows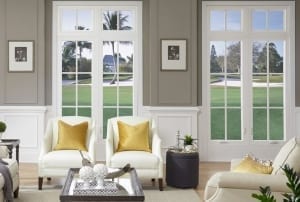 Your firepit area might be your pride and joy. You want to enjoy those cool nights all year round. While it's not always going to be the perfect day for a firepit or smores, you can at least always see that feature, even from inside, if you put in a perfectly placed picture window. You can enjoy the stonework and view any time of the year.
There are lots of things you can use hurricane windows in Pinellas County, FL for to enhance your outdoor living space from both inside and out. You will also enjoy further protection on your home during storm seasons and higher levels of energy efficiency all year long. Talk to the professionals at Clearwater Window & Door Inc about your goals during your free in-home consultation and put details together from there.