When you live in Pinellas County, you have a lot of beautiful weather to enjoy. You might have a nice view outside your home as well. Even when it's hot and humid outside, you want to enjoy the outdoor living style, even if you remain inside. That might mean getting a little creative where your windows are concerned. Instead of standard double-hung or casement windows, consider a bay or bow window. Not only will you be able to see out better, but you will actually have more interior space. Plus, when you are outside your home, the house will have more architectural flair. A new bay or bow window can become a focal point for any home. But which one of these windows do you want? What are the differences?
The Beautiful Bay and Bow Windows
Both bay and bow windows are beautiful and at first glance, they look quite a bit alike. Both will open up a room and allow it more space while letting in more light and bringing glamour to the interior and exterior of a home. But there are a few major differences that help you tell them apart.
Number of Windows
Bay windows usually have three windows that are angled. The middle window is always fixed while the two side windows can be fixed or they can open and close. Bow windows, on the other hand, have four or five windows at a more gradual angle.
Overall Curve
Bay windows have sharper angles with a larger fixed window in the middle and two smaller windows on either side. Bow windows have four or five windows of the same size and a more curved, rounded appearance.
Protrusion
Bay windows protrude farther from the wall outside so they add more floor space inside your home than bow windows.
Light
While both styles add more light, bow windows will add more because they have more glass panes than bay windows.
Width
Bay windows only have three panels so they usually aren't nearly as wide as bow windows. Bow windows, however, can wrap around the corner of your home with a unique turret shape to give you views from two sides of the house at once.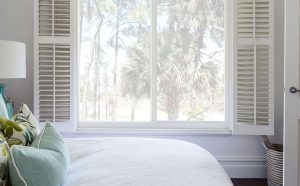 Looking at the differences between bay and bow windows can help you decide what direction you want to move toward for your Pinellas County home. If you need further help making the right decision, or you are ready to move forward with the project, contact Clearwater Window & Door Inc at 727-559-7007. We're here to help your home look and feel as perfect as possible. Bay and bow windows Pinellas County are both beautiful and with our high-quality products, they can be energy efficient as well. You don't have to give up money on your energy bills to have the window styles you want. Stop by our showroom at 2025 Gulf to Bay Blvd, Clearwater, FL 33765 and take a look at examples so you can be sure you go with the right windows for your home.