Your house isn't like any other house in Pinellas County because it's yours. Likewise, no two rooms of your house are alike. When it comes time to replace your windows, you don't have to get the same window for every room of the house. You have plenty of options to consider. Here are a few suggestions you might want to take to heart as you look at window styles and options.
Choose the Material First
When it comes to getting new windows, no decision is bigger than the material you will get. While you might choose different styles for different rooms, the material will likely be the same throughout. Many experts suggest vinyl for windows because it is energy efficient, versatile in style, cost effective, and attractive.
Consider Use
When you are looking at different rooms in the house, think about how you will use the window. You might want a casement window above the kitchen sink, for example, because it would be easier to reach a crank to open a window than it would be to slide open a double hung window. On the other hand, you might want a double hung window in the living room if it opens near an outdoor living space so a casement window doesn't crank open into that space. The use of the windows and what's around them is very important to the overall style you choose.
Think Safety
Do you have children or pets in your home? You want to make sure they are safe and sound, and buying the right windows is a large part of that. If you have a second story on the home, consider double pane windows St Petersburg so you can open the top half, but leave the bottom half closed. That way, you still get ventilation and fresh air, but no one will fall through any screens that are at their height.
Keep Efficiency in Mind
Many different window styles can be efficient, but if efficiency is of utmost concern to you, consider casement windows wherever possible. These windows tighten against your house when they are closed and the window blows, creating an even tighter seal against bad weather.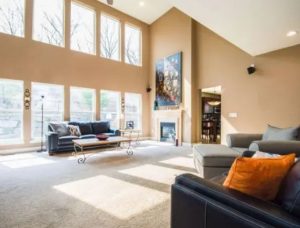 It can be hard to choose the right window style for every room of your house. But don't worry! You don't have to do the job alone. Of course, all of the final decisions are yours, but the professionals at Clearwater Window & Door Inc are here to answer your questions, listen to your concerns, and consider your goals to help you make informed decisions about your windows. Give us a call today at 727-559-7007 and we'll give you a free consultation. We're located at 2025 Gulf to Bay Blvd, Clearwater, FL 33765 and we'd love to have you stop by and take a look at some of the windows we have on our showroom floor. Sometimes, seeing our examples can give you a good idea of what you want for your home.