Your home may be beautiful, but if it has any age behind it, it could be costly to maintain over the years. Older homes cause a lot of issues as you attempt to keep them in good condition, but they also often have leaks, drafts, and other inefficiencies. These can cause high electric bills, which is the last thing you need when energy costs are on the rise in Pinellas County. In order to get around those costs and actually start to reduce them, there are several things you can do. Here are a few ideas.
Replace Windows
Draft windows can leave your home cold in the winter and scorching hot in the Florida summer. Your air conditioning and heater crank up and work extra hard. Which means your energy use goes up and so do your bills. Plus, your HVAC system is overworked and won't last as long. When you replace your windows, you will more easily be able to keep a consistent, comfortable temperature. Plus, you can get Low-E coatings on the glass to keep the heat out while allowing natural light in. New windows make your home more energy efficient while reducing your utility costs overall. The professionals at Clearwater Window & Door Inc can help you with the entire process from start to finish.
Replace Front Doors
Replacing the front door to your home can cut back on drafts further and seal your house up better. IT can help your home's energy efficiency and allow you better security as well. If you get new windows and still have a leaky front door, you won't' see as many savings as you could.
Insulate More
Any home's insulation is key to its energy efficiency and, therefore, its energy bills. The insulation needs have changed over the years and through your insulation may be okay from your home's time period, things have changed and you can improve it and get it up to speed now. Insulation in the attic can make a huge difference in your home's energy efficiency.
Replace Appliances
Upgrading your old appliances with new, energy efficiency models will save energy as well. If you use the washing machine all the time because you have a big family, a machine with an Energy Star label will make a big difference in the long run. As appliances wear out over the years, make sure to upgrade to energy efficiency models in order to save more energy and lower your bills more.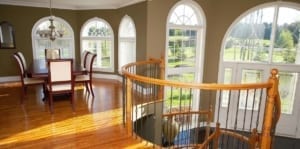 There are plenty of things you can do, but no one thing will impact your energy bill as much as new windows in Pinellas County. If you're ready to ask questions or if you want to look into energy efficiency windows, just call Clearwater Window & Door Inc at 727-559-7007. We're happy to help you and give you an in-home consultation for free. We want to make sure you get the windows you need! You can also stop by our showroom at 2025 Gulf to Bay Blvd, Clearwater, FL 33765.