When you are looking into windows for your Pinellas County house, there are a number of things you will want to check out. You will care about what the windows look like and where you can find the best quality replacement windows. You will also consider the accessories like cranks, locks, and handles. You will even spend time thinking about colors for the windows and what they would look like in your home. Amidst all that, the element that is more important than any other is the energy efficiency of your new windows.
There may be days when you don't think there is anything wrong with your old windows. They look okay on the house, right? But have you ever thought about how much energy they may be wasting? That little draft adds up to energy sucking in no time flat. You would be surprised at how much you can save when you get energy efficient windows installed on your home.
When it comes to finding the best quality replacement windows, you don't need to look much further than a window's energy efficiency. Energy efficient glass can save you quite a bit, and the materials in the frame can do wonders to your bills as well. The type of glass you choose greatly affects the flow of heat that gets into and out of your home. High performance glass resists more heat in the winter and reflects heat in the summer to reduce your costs every season of the year.
You can also get glass that blocks out more than 90% of the UV rays coming into your home. Living in Pinellas County, you know that sun can be dreadful when it is at its fullest. Your home can forget about fading furniture, floors, and other items when you have the best replacement windows installed.
Overall, windows and doors are estimated to blame for 70% of the energy your home loses throughout the day. When you get energy efficient options, you keep that energy inside and your bills are much easier to pay.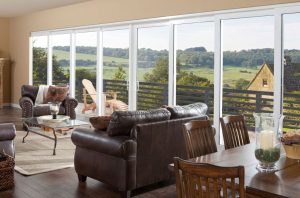 When you pay attention to details, especially those in relation to window energy efficiency Pinellas County, it's much easier to find the best quality replacement windows for your home. Of course, you don't deal with windows on a daily basis. But the professionals at Clearwater Window & Door Inc do and we can give you a free, in-home estimate any time you want. Give us a call at 727-559-7007 and let us answer the questions you have about windows, energy efficiency, and what's best for your home. You can also stop by and see what we have to offer in person. Our showroom is located at 2025 Gulf to Bay Blvd, Clearwater, FL 33765
and we'd be happy to show you around or let you browse the options on your own. We want nothing more than the best windows for your Pinellas County home and we won't stop looking until we find the best fit.